I am duty-bound by the unofficial laws of the internet to annoy you with a post about food (#basic). Bear with me.
Dining is central to any travel experience, and this is especially true of New Orleans, where the smell of seafood clings to your clothes wherever you go. While walking around the French Quarter, I am constantly tempted by the scent of something delicious carried out into the humid streets by a blast of AC. More often than not, I give in.
Creole and Cajun food reign supreme in New Orleans, and though this has been wonderful for my palate, my figure is beginning to suffer. But I'll worry about that later. I've also spent some time exploring other cuisines, and so here are some of my recommendations to future bookpackers.
---
1. Yum's Restaurant
3059 LA-1
Grand Isle, LA 70358
I have to credit Yum's for my awakening (pun intended) to the world of Louisianan cooking. Here began my love affair with the po' boy. For anyone unfortunate enough to be ignorant of this marvelous food item, a po' boy is a sandwich that contains some type of meat—typically of the seafood variety—and can be dressed with lettuce, tomatoes, pickles, onions, or whatever other accoutrements your heart may desire. The cooks at Yum's make a mean catfish po' boy, but their shrimp po' boys are to die for, as Andrew himself will attest to.
At first glance, Yum's may not look like much. You may hardly even notice it while driving through Grand Isle, but you'll be sorry if you miss it. Yum's is the perfect place to come to after a day of reading on the beach and swimming in the Gulf. It is always filled with lively locals and vacationers, and it's not hard to strike up a conversation with another group of customers—someone even invited us to visit his sugarcane farm.
In short, Yum's is a must for any visitor to Grand Isle.
---
2. Boutte's Bayou Restaurant
5134 Boutte Street
Lafitte, LA 70067
We lunched at Boutte's during our drive up from Grand Isle to New Orleans. Like Yum's, Boutte's may appear deceptively unassuming. Make your way up the creaking steps, though, and you're in for an experience that will make you want to stay forever. Boutte's confirmed my undying love for po' boys. Crabmeat may make for a messy sandwich, but the mess is half the fun. The flavor is the other half.
For those of you who may want to diversify beyond the po' boy realm, Boutte's crawfish pies and seafood gumbo come highly recommended by Alfredo. Though I don't have a picture of it, the baked potato (fully dressed) is also an excellent menu item. So if you're ever in New Orleans, be sure to drive down to Lafitte for some fantastic Creole cooking!
---
3. Mother's Restaurant
401 Poydras St
New Orleans, LA 70130
Mother's is the self-proclaimed home of the "World's Best Baked Ham." Unfortunately, none of us ordered baked ham, and so I can't say if Mother's is deserving of that title. What I can and will say, however, is that their jambalaya is nothing short of inspirational. In fact, I've been annoying everyone for days by singing "Jambalaya" to the tune of Leonard Cohen's "Hallelujah" (I heard there was a secret dish / that Creoles make, and they use some fish, / but you don't really care for seafood, do you?). The sides are surprisingly tasty—I had no idea that green beans and tomatoes could taste so good.
If you want a place that isn't too fancy but serves amazing Creole food at a good price, then Mother's is a great choice. Try that baked ham or get some seafood, but be ready to burst into song. ♪ Jambalaya, jambalaya, jambalaya ... ♪
---
4. Ray's on the Ave.
1139 St Bernard Ave
New Orleans, LA 70116
Ray's is a little place up in the Tremé run by some of the nicest people you will ever meet. And these people make some of the nicest food you will ever eat. I'm sure you're sick of hearing about po' boys at this point, but I need to extol the virtues of Ray's alligator sausage (you read correctly) po' boy. Its praises cannot be sung enough. As with any new type of meat, I was hesitant. I'm sure many of us have racked up the courage to try something new, only to be bitterly disappointed in the end. Not so with the alligator. Never smile at a crocodile, but always enjoy a gator po' boy.
---
5. The Golden Chip
537 Toulouse St
New Orleans, LA 70130
Golden Chips has 4.5/5 stars on Yelp for a reason. Their fries are amazing. Their chicken is amazing. Their sauces are amazing. Incidentally, I highly recommend the Creolaise sauce and the aioli sauce.
If you're wandering around the French Quarter and looking for a place to eat that won't drain your wallet but will fill your stomach, Golden Chips is the place for you. It's only a block or so away from Jackson Square, and I definitely suggest ordering takeout and picnicking. Find a bench, read a book, enjoy the music, eat some chicken. What more can you want from life?
---
6. Royal Sushi & Bar
1913 Royal St
New Orleans, LA 70116
Up in the Faubourg Marigny, Royal Sushi is a great place to go if you want to take a break from Creole/Cajun food. While there are several great Vietnamese places in the Garden District (the pho at Lilly's Cafe is delicious), New Orleans suffers from a dearth of Japanese venues, and so finding Royal Sushi was serendipitous. For a college student, instant noodles and packaged ramen are staples, but nothing compares to actual ramen from an actual restaurant. I chose a spicy tonkotsu broth with beef and added bok choy and kimchi, but I encourage you to be creative and come up with your own combinations! The handrolls are scrumptious as well, and if you want a good dessert, the red bean ice cream and fried cheesecake won't disappoint!
---
7. Borgne
601 Loyola Ave
New Orleans, LA 70113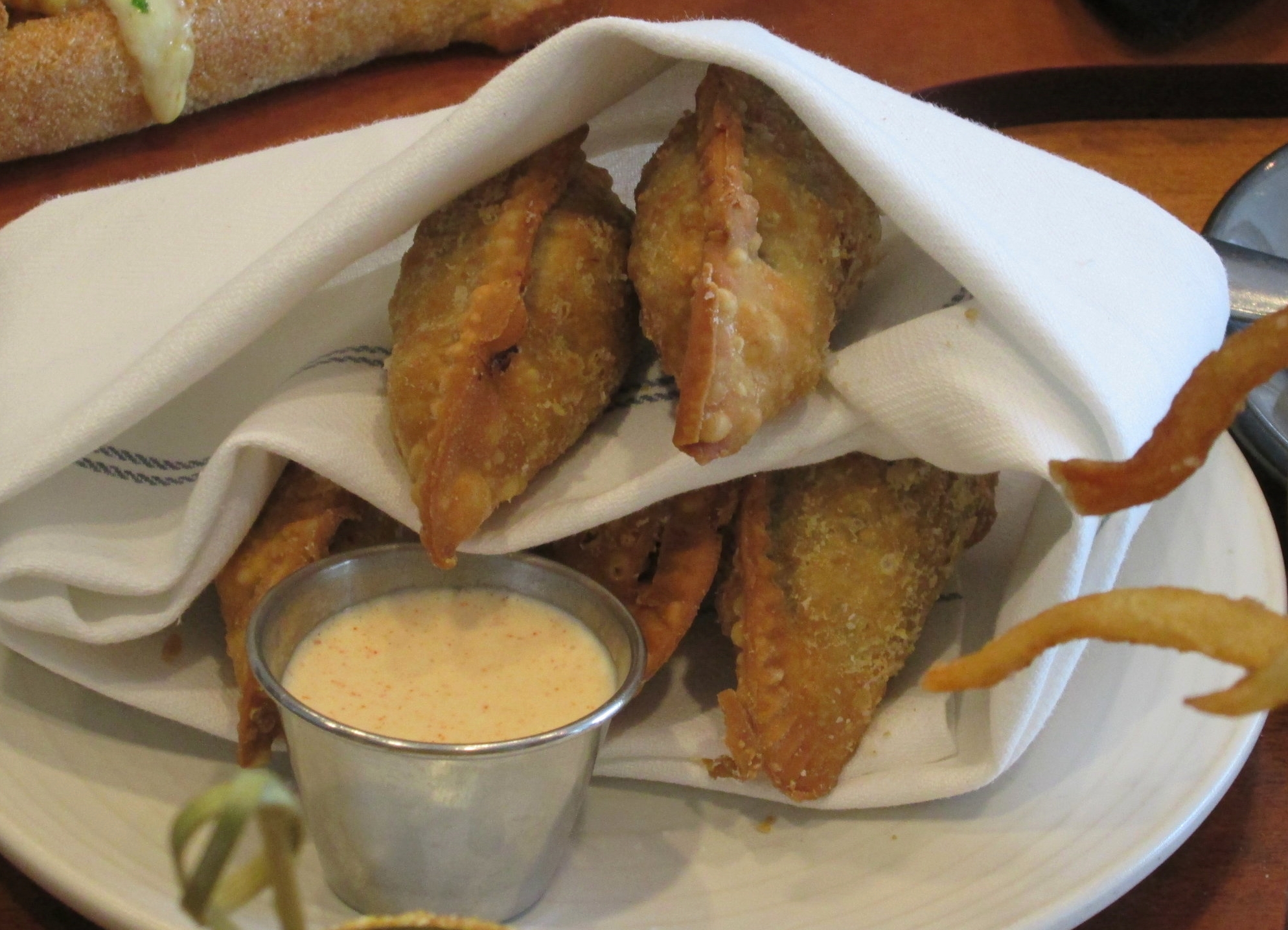 Looking at the menu, the prices at Borgne can seem a little higher than at other restaurants, but once you realize just how much food is on your plate, the prices will begin to make sense. Once you take your first bite, cost will become a forgotten issue.
I'm always hesitant to order sliders because they are often disappointing in portion and taste. Borgne's catfish sliders, however, are an exception; they prove that catfish is the king of all fish. Red beans and rice may sound like a simple dish, but Borgne has mastered this simplicity; this Monday lunch special even comes with a fried pork chop. Borgne also knows how to make bread, shown by their marvelous crawfish ciabatta. The presentation alone is alluring, the taste even more so. As for the pork empanadas, the flavor of the sauce is like a curtain that slowly lifts to reveal the taste of pork. I don't know what sauce they used, but it contains just the right amount of horseradish to clear my sinuses and get my heart racing.
---
8. Creole Creamery
4924 Prytania Street
New Orleans, LA 70115
In an act of gluttonous foolishness great enough to have been committed by the piggish Ignatius J. Reilly, main character in John Kennedy Toole's A Confederacy of Dunces, I attempted to complete the Tchoupitoulas Challenge at Creole Creamery. I maintain that I might be able to eat eight scoops of ice cream with eight toppings, but the addition of an entire can of whipped cream (disgusting even in concept) made the task practically impossible for me. Within a few minutes of eating, the sundae turned into a soupy mass of colors.
Unfeasible challenges aside, Creole Creamery is a great place to stave off the humid heat with a cold treat. Their flavors are fantastic, especially lavender honey. Lavender may be a contentious ice cream flavor, but I am a firm believer in trying new things. If you're a more conventional person, I suggest you order a scoop of mango sorbet. If you can find an open seat (it's always crowded), relax, eat your ice cream, and enjoy the fact that there are still ice cream stores that haven't become hipster traps.
---
9. Café du Monde
800 Decatur Street
New Orleans, LA 70116
No post about food in New Orleans is complete without mentioning Café du Monde, home of the fabled beignet in all its sugary glory. There is no way to sufficiently describe the joy of eating one of these divine confections, so I won't even try.
---
10. Meril
424 Girod Street
New Orleans, LA 70130
I've saved Meril, one of Emeril Lagasse's restaurants in New Orleans, for the end. Why? Because Meril is amazing. Though not a Creole or Cajun restaurant, Meril still draws from regional cuisine; the clam linguine and shrimp tacos are great examples of this. In this way, Meril is a true New Orleans restaurant; it combines the old with the new in a process of constant evolution.
But enough philosophizing. I'm here to talk about food. Let me just say that I've never had better pasta. As for the shrimp tacos, sorcery was undoubtedly involved in their making. The different flavors involved—shrimp, lemon, corn flour tortilla, sambal mayo, onion, cilantro—are perfectly mixed with explosive force. Taking the first bite was a transformative experience—I ran the gamut of flavors and emotions. As for the chorizo flatbread, in Alfredo's own words, "the bread is flat but the flavor ain't."
The desserts deserve their own paragraph. Between four people (Christopher, Alfredo, Ogechi, and myself), we ordered six desserts: banana cream pie, a chocolate crepe, salted caramel ice cream, cotton candy, raspberry lemonade sorbet, and pecan pie (both Ogechi and I broke into incredulous laughter when the check came). It's amazing that a classy establishment would serve cotton candy; clearly, Meril isn't afraid to have fun.
The rest of my trip will be dedicated to finding a restaurant good enough to knock Meril off my "favorite" pedestal. It may be a futile endeavor.