Our reading then took us away from New Orleans. Headed straight for Baton Rouge, our bags were packed, the van was filled, and with us we carried Robert Penn Warren's novel, All the King's Men. We started out on the highway again, overlooking sights we had seen briefly on our ride into New Orleans from Grand Isle. I was finally beginning to understand how sudden thunderstorms could roll in, and how driving down the highway could feel more like diving in a submarine. A trip down a web of highways that weaved through what seemed like endless rivers and bayous of cypress trees and Spanish moss, seemed short in our journey from New Orleans to Baton Rouge. We had left the Big Easy behind, just for awhile, to follow the Bookpacking path.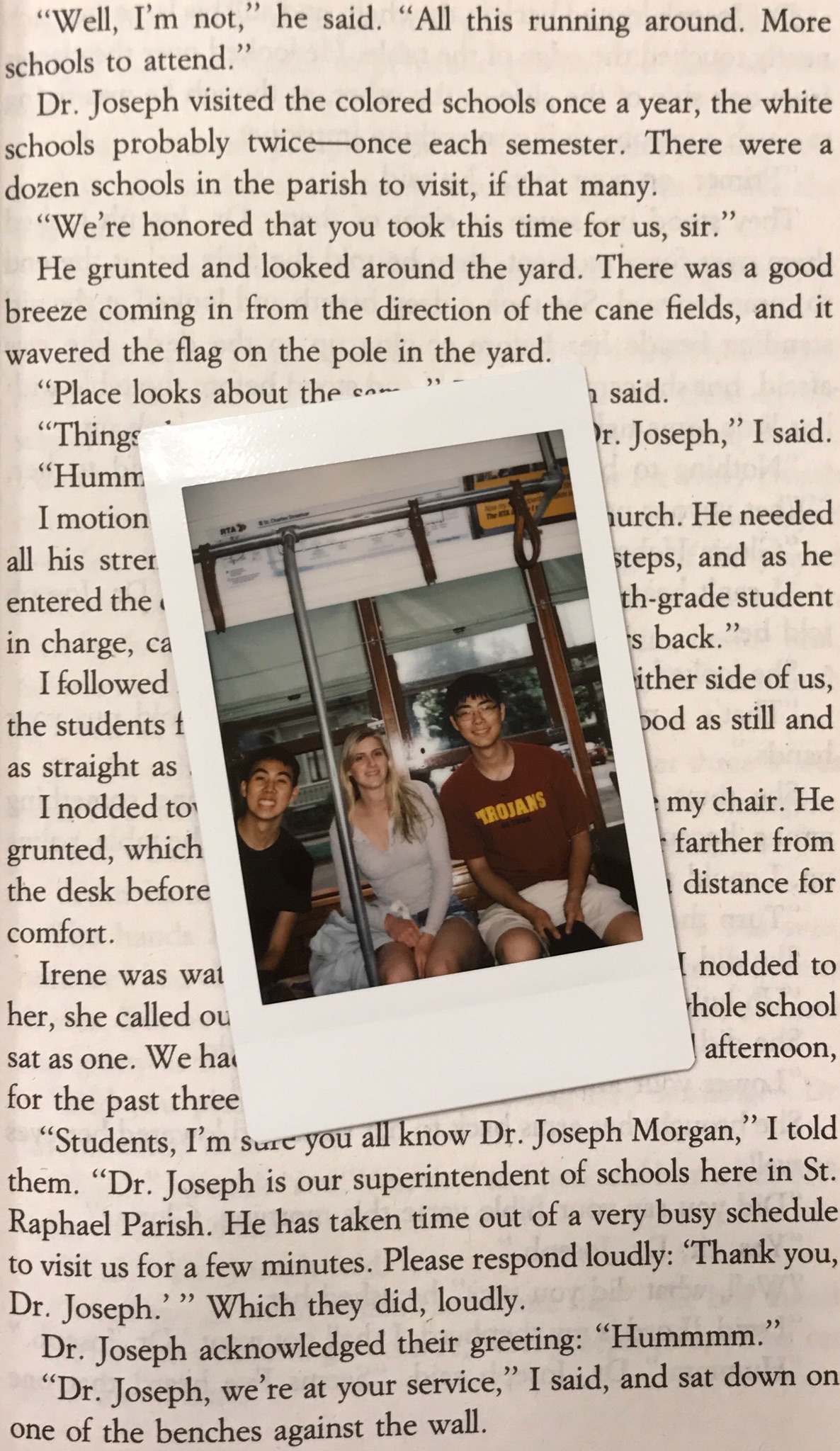 As Louisiana's capitol, Baton Rouge is the state's second largest city with the next highest population, second only to New Orleans. But as our van pulled up in the center of downtown, we realized the emptiness of the streets. We attributed it to the rain, figuring everyone had taken shelter inside, but as the rain cleared and we wandered the city, the sleepiness of Baton Rouge seemed a great contrast to the vivaciousness of New Orleans. On a walk around the block, down the Mississippi's river-edge, across the railroad tracks, and through the park, we had only seen a handful of people. The downtown Baton Rouge population seemed to congregate for lunch at Poor Boy Lloyd's, where I had some pretty fantastic fried pickles.
A small restaurant full of people seemed like the hotspot of Baton Rouge until we ventured to the capitol building. The tallest capitol building in the United States, the Louisiana State Capitol stands 450 feet high with a 27-acre plot of land. With spectacularly manicured gardens, statues, plaques, and fine materials, the State Capitol Park cost five million dollars and was completed in only 14 months, finishing construction in 1932 under the direction of Governor Huey P. Long.
Huey Long entered into politics fighting for the common man, hoping to reduce the power of big business with taxation to serve the state's schools, roads, and other utilities. He was elected Governor of Louisiana in 1928, under the campaign slogan, "Every man a king." Huey Long established many reforms that transformed Louisiana's economic climate, providing jobs to working class members, enhancing education programs, and revitalizing Louisiana infrastructure. His taxation of oil refineries and big business made him an unwelcome member of government for wealthy businessmen, which lead to many failed attempts at impeachment. Huey Long easily found a seat in the U.S. Senate and was set to run in the 1936 Presidential election against Franklin Delano Roosevelt. But by 1935, tensions in Long's government had run high, as his misuse of power had wracked democratic values for far too long. On September 8th, 1935, Huey Long was shot inside the State Capitol building in Baton Rouge and subsequently died two days later from the injuries.
What remains today is Long's legacy in the State Capitol building and park. We discovered that that was where everyone seemed to be hiding. Inside, everyone was busy, carrying piles of papers, rushing to the elevators that drag you up 24 floors so quickly, you get a little woozy. The observation deck on the 27th floor provided a view of the entirety of Baton Rouge. From up there, the Mississippi River really does seem to go on forever.
The Senate and House Chambers are extravagant with their heavy marble columns and delicately painted ceilings. We watched as House and Senate members moved to pass bills of legislature, and we watched men and women in fancy suits strut comfortably around the elaborate capitol. Though we were in awe of its rarity, the capitol was part of their everyday life. What remains today, as Huey Long's legacy, is the averageness of this opulence; that people still come to work in this place everyday. Imagine carrying a simple PB&J in a brown paper bag into work. It would just feel very out of place here.